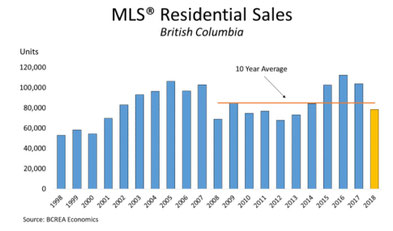 In a  January 15, 2019 BCREA release (BC Real Estate Association) they noted that BC home sales declined 24.5% in 2018 across the province.  Residential sales (all property types) were 103,758 units in 2017 and 78,345 units in 2018, which is below the 10 year average.
Cameron Muir, BCREA Chief Economist sates, "The sharp decline in affordability caused by the B20 mortgage stress test (effective January 1, 2018 for mortgages with 20% or more down payment) is largely to blame for decline in consumer demand last year." 
The release further notes that December unit sales were down 39.1% compared to December 2017.  Also, total active listings were up 33.3% to 27,615 units in December (province wide), the highest inventory since 2014. 
For the VIREB (Vancouver Island Real Estate Board) area the release reports 16.4% drop in unit sales and a 7.9% price increase with an average price of $465,124 for 2018.  Comparing December 2017 to 2018 they report 46.4% drop in unit sales.
---
You may notice some discrepancies between the above report figures and the stats in the Market Update section of this website.  This release is based on province wide figures and what we experience here on Vancouver Island is often different than the mainland.  Plus, the release is for all types of residential properties whereas the stats in the Market Update are for single family homes (excluding waterfront and acreage properties).  Notably:
Our inventory levels for December were only up marginally from 2017, which was the lowest since 2007.  Looking at the average inventory between 2007 and 2014 we are at 50.9% for December 2018.  So we here on the Island do not have the high inventory levels reported in this release.  See Graph.


The average single family home price here $512,005, which is a 10% increase over 2017.  Our unit sales are down 19% compared to 2017.  See Chart for information on the sub-markets for Vancouver Island.

Not addressed in the release, new listings were down 7% here, which is slowing the inventory level recovery.

Our December 2018 unit sales were down 48.2% compared to 2017.  However, the federal government announced the new B20 mortgage stress test in October, 2017, set to take effect on January 1, 2018.  This led to a busy December in 2017 as buyers moved to avoid the stress test.  This, plus a very busy 2017, led to December having the highest unit sales back to 2007.  Therefore, the drop in unit sales between the two years is likely artificially inflated.