BCREA Releases a Market Intelligence Report
In their Market Intelligence report, BCREA (BC Real Estate Association) has developed four scenarios that examine potential outcomes on the housing market considering changes to the economy due to COVID-19 and whether or not the announced changes to the stress test are implemented. The changes to the stress test, moving the qualifying rate from the 5-year posted mortgage rate to the average 5-year fixed rate plus 200 basis points (2%), were due to take effect on April 6th, but have been postponed by the government.
Interest rates have seen a sharp decline with the Bank of Canada (BOC) lowing its overnight rate twice in less than two weeks by a hundred basis points (1%) to 0.75%. On the weekend the US lowered its rate to near zero and the BOC is expected to lower its rates again, either at their normal announcement on April 15th, or perhaps before.  5-year bond yields have dropped as well, from 1.63% on December 20, 2019 to 0.65% on March 13, 2020.  This is being reflected in lower 5-year fixed mortgage rates, however the bank posted 5-year fixed rate has not moved and remains at 5.19%. Therefore, the postponement of the stress test changes is limiting home buyers from benefiting from the lower mortgage rates in terms of qualifying for a mortgage.
Regarding the impact of COVID-19 on the economy and the housing market, BCREA sums it up as "nobody knows."  Hence you will see in the four scenarios graphed below there are three different GDP growth forecasts. Their forecast, before COVID-19, was 2.4% GDP growth for 2020. I apologize for the quality of the graphs, they are a little clearer if you click on the link above.
The report notes that global supply chains will be impacted as well as travel and tourism. This, combined with the collapse in oil prices, is increasing the probability of a recession. They also graph the effects of past recessions on home sales in the report.
---
The report notes that the COVID-19 outbreak is occurring at a time when the BC hosing markets are recovering from a two-year slowdown. That is more of a provincial statement. While sales have slowed over the last couple of years here on the Island, price increases continued over this period. Undoubtedly aided by the upward pressure on price due to low inventory.
The two graphs show all scenarios having an initial drop in unit sales and price and one scenario, where the stress test changes are implemented - giving buyers easier access to lower mortgage rates - recovering above the baseline forecast.
It is very early days and too much is unknown at this time to accurately predict the changes to the housing market.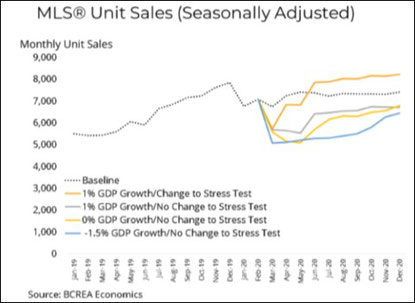 ---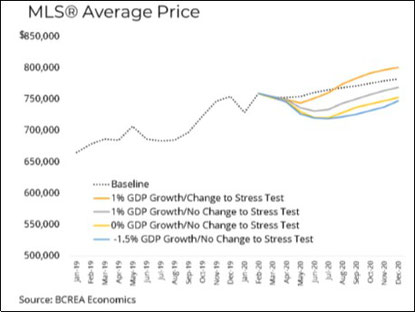 Real estate is a face to face business. Plus, when buyers view a property, they naturally want to open doors, closets, kitchen cabinets, etc. 
My concern is that the COVID-19 outbreak may dampen activity. New open house protocols suggest limiting them or letting only one group through at a time. Already some buyers are reluctant to travel here (50% of our buyers are from off the Island) and some sellers are getting nervous about showings. 
Those that don't need to sell now may decide to wait and not list their home until things settle down. Potentially lowering our already low inventory levels, depending how buyers react.
For myself, now when I show a property we hand sanitize before going in, to protect the seller, and again when we leave to protect ourselves.
While we simply do not know what the impacts will be, the report concludes that this will pass and the economy and housing market will return to normal. At this time we just don't know the impact or for how long it will last.