In their June 5, 2020 Economics Now release BCREA (BC Real Estate Association) reported on the employment levels for Canada and BC.
For Canada, employment grew by 290,000 jobs in May (1.8% over April) gaining back 10% of the jobs lost since the pandemic was declared.  Plus the number of workers who had their hours decreased decreased by almost 9%.  However, the unemployment rate rose by 0.7% to 13.7% since April as more people started to look for work.  Compared to May 2019, Canadian employment was down by 13.5% (-2.6 million).
Quebec represented almost 80% of the new employment with 230,900 jobs and Ontario, the only province with a loss, declined by 64,500 jobs.  The goods producing sectors such as construction and manufacturing reported stronger gains.  This resulted in men receiving a faster increase in employment than women.
BC showed a similar pattern in job increases, but with a different profile of the type of jobs.  Employment grew by 43,300 jobs in May (2% increase over April).  Like the country, unemployment increased by 1.9% to 13.4% as more people started to look for work.  Compared to May 2019, employment in BC was down 15.1% (-390k) jobs.
Almost all of the employment increases in BC were in the services sector.  These included accommodation and food services (12.4k), education (11.9k) and retail (11.8k).  This is consistent with phase 1 of the reopening which included lifting restrictions on non-essential services including retail, restaurants, non-medical health services and schools.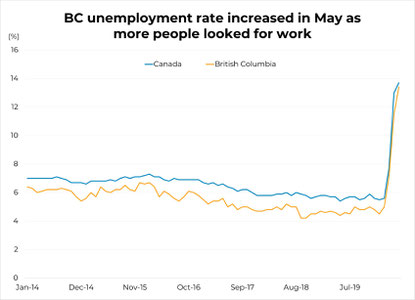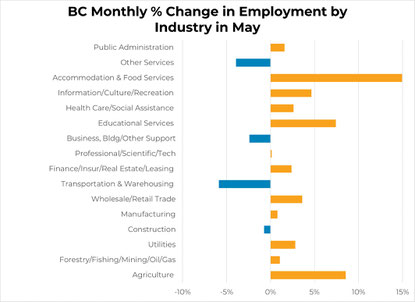 BCREA concludes with; "This is a good news report, as it appears we are on the path to a slow recovery.  That being said, any continued employment gains will depend on consumers' demand for goods and services, which is expected to be hampered by the still 350,000 unemployed individuals in BC since February.  Also, the rate of people returning to work will depend on their willingness to do so given ongoing health concerns."