In their June 4, 2020 release CMHC announced, effective July 1st, changes to their underwriting criteria, what buyers must meet in order to qualify for mortgage insurance.  This affects buyers with less than 20% down.  Mortgage qualification levels are being increase as well as credit score requirements. 
Please understand that I am not a mortgage professional, if you have questions please talk to your mortgage professional.  To that end, I would like to thank Fernando Zilli, Tribeca Mortgages for this release and additional information.
The changes include:
Limiting the Gross/Total Dept Servicing (GDS/TDS) ratio to 35/42.  Previous ratios were 39/44.  These ratio measures your current dept (and some expenses) against your income.  GDS is house debt and expenses and TDS includes house and other debt and expenses.  The higher the ratio the higher the amount of mortgage you may qualify for.


Establish minimum credit score of 680 for at least one borrower.  The previous minimum was 600.


Non-traditional sources of down payment that increase indebtedness will no longer be treated as equity for insurance purposes.  Gifted down payments (such as from a family member) are considered a traditional source and are not affected by these changes.


Insurance for refinancing for multi-unit mortgages has been suspended except when the funds are used for repairs or reinvestment in housing.
What is the impact of these changes?  Certainly reduced borrowing ability for buyers.  Fernando shared with me an example where a mortgage of $707,000 under the current rules and will be reduced to $625,000 under the new rules.  A $82,000 difference, or 11.6% mortgage reduction.
In their release CMHC sited the reasons for these changes; "In order to protect future home buyers and reduce risk."  As an insurance company CMHC is naturally concerned with its own risks.  The release also notes that they expect a 9% to 18% decrease in house prices.  As an insurance company, they tend to be very conservative with their estimates.  Even on a national level, this decrease seems excessive to me and I believe is highly improbable here in the VIREB area (Vancouver Island Real Estate Board) due to our low inventory levels.  Which are lower now with the pandemic.  The graph below demonstrates the upward pressure on price due to low inventory levels.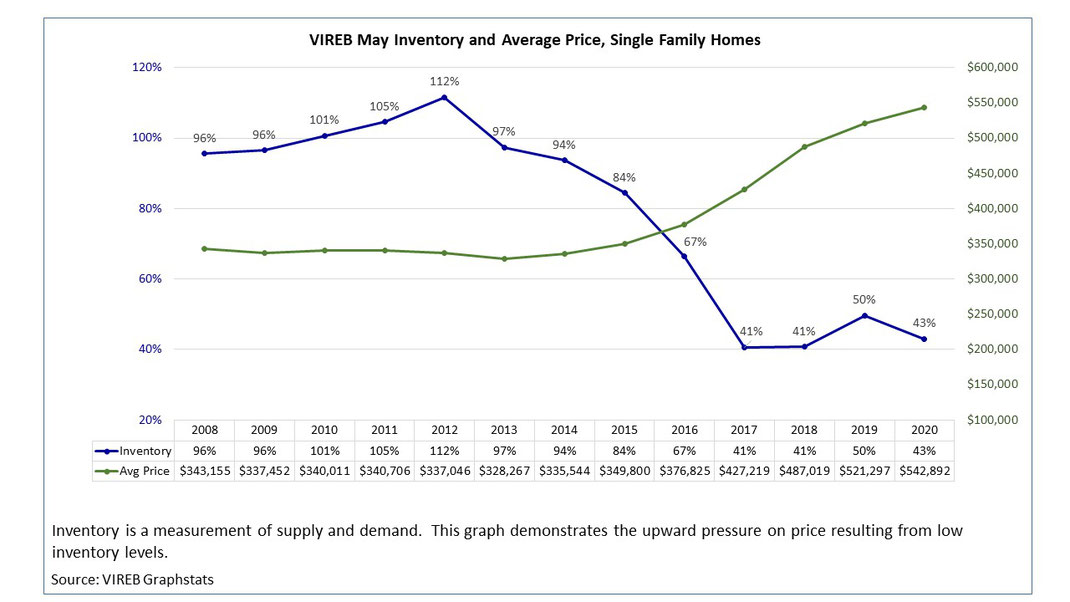 To date I am not seeing any suggestion that prices are falling.  In fact I am seeing properties that have been on the market for a long term without selling (an indication that the market believes the price is high) are now selling for close to list price.  This type of activity is indicative with low inventory levels and not with falling prices.
In a BCREA release June 10th, they released their second quarter housing forecast.  While they are now forecasting a 19.8% decrease in unit sales for 2020 (down from a 8% increase in January's forecast) for the VIREB area, they are forecasting a 3.4% increase in single family home prices (down from 3.8% increase in November's forecast).  This forecast seems reasonable to me and I will be covering this more in next month's newsletter.