If this blog does not show well in your email, you may click on the title to view it in a browser.  I use MailChimp to mail this out, they are good, but not perfect.
---
While still early days, we are starting to get a sense of the impact of COVID-19 and the resulting disruption to the economy on the housing market.  Here are some conclusions/thoughts for the VIREB (Vancouver Island Real Estate Board) area:
Activity:  The graph below compares sales and new listings to the same month of the previous year.  As can be seen, sales and new listings dropped dramatically with the pandemic, though May does show a little growth.  This growth is expected increase with the relaxing of the health restrictions and the opening of the economy.  Although I suspect it may take some time to get back to "normal."
In May, for the VIREB area, new listings were down 40% and sales were down 46% compared to May of 2019.
It is a bit of a guess at this point as to which will respond faster, new listings or sales.  For new listings the major factor will be sellers comfort level for having people in their homes and the potential health risk.  For buyers, some of them may have had their income interrupted or threatened and may not have the confidence to make a commitment at this time.  Plus, CMHC is changing its insurance qualifying requirements which is reducing the amount of mortgage buyers may qualify for by over 10%, see CMHC blog. 
At the moment, I believe that new listings will recover faster than sales, which will ease the upward pressure on price caused by our low inventory levels. This is covered in the next section.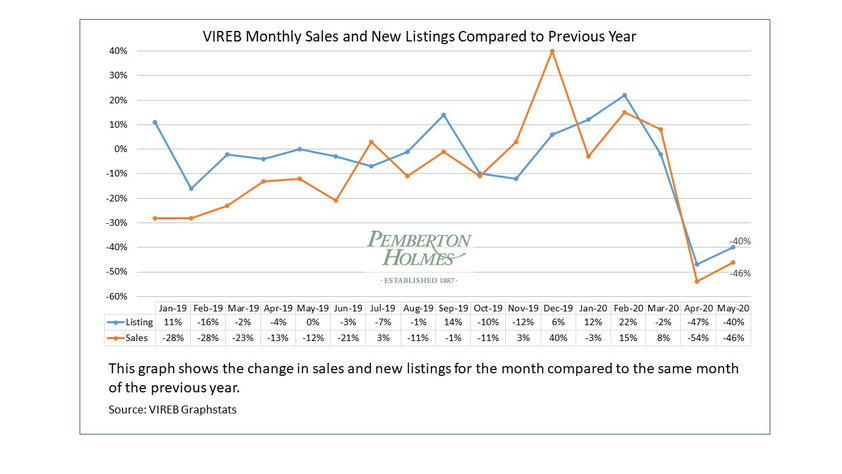 ---
Prices:  Inventory is the sum of supply (active listings) and demand (sales).  When demand is high relative to supply the inventory is reduced and it places an upward pressure on price, which is nicely demonstrated by the graph below.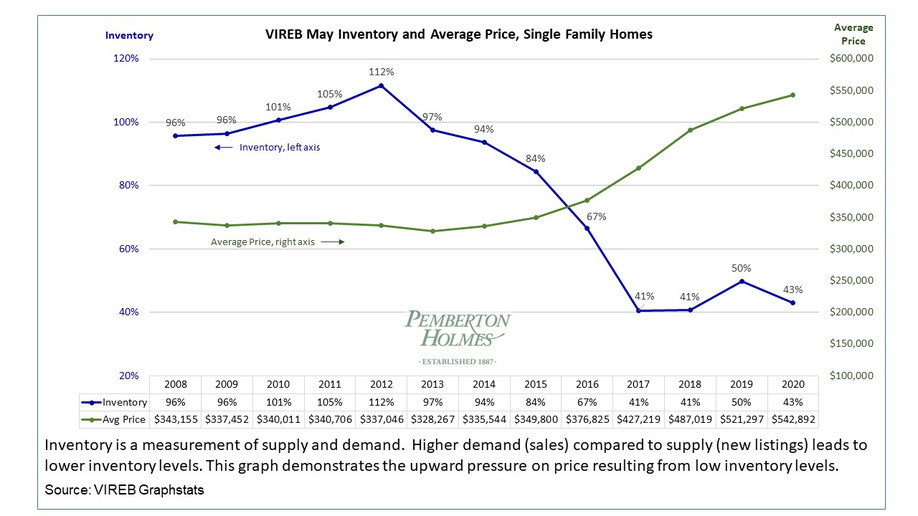 To date I am not seeing any indication that the pandemic and economic slow down is having a negative effect on prices.  In fact, to a degree, I am seeing the opposite.  Over the last couple of months I have seen listings that have been on the market for some time (stale listing), an indication that the market thought they were priced high, are now selling as there are few listings for buyers to choose from.  Multiple offers are still common as well.
In their June, 2nd quarter Housing Forecast, BCREA is forecasting that prices will increase 3.4% in 2020 for the VIREB area.  This is down from their 3.8% forecast made in November.  Generally, I have found BCREA to be low in their price forecasts as they don't fully account for our low inventory levels.  In this case, I am not quite as bullish as they are and I am forecast a 2-3% price increase for 2020.
Obviously, forecasting these days is very difficult as there are so many unknown factors.  The rate of economic recovery (see next section), our inventory levels and how much buyers' ability to purchase has been impacted by the disruption and the CMHC changes are factors I will be watching. 
---
BC economy:  For the first time since 2008/2009 we are in a recession.  However, this is a self imposed recession for health reasons rather than a financial or economic recession.  Therefore, we are in new territory and the behaviour of the economy is likely not going to be like past recessions.  The key factor in terms of short and long term impact is how long we are shut down.  Moves to start reopening the economy are a good sign.  Another key factor is consumer confidence and their comfort level in getting back to work and resuming previous levels of consumer spending, which is impossible to forecast at this time.
In their 2nd quarter Housing Forecast BCREA reports the following on the BC economy:
Real GDP Growth:  Forecasted to be -6.3% for 2020 and 3.6% for 2021.


Retail Sales growth is forecasted for -11.5% in 2020 and 4% in 2021.


Employment:  Employment grew by 43,300 jobs in May (2% increase over April).  However, unemployment increased by 1.9% to 13.4% as more people started to look for work.  Almost all of the employment increases were in the service sector as the economy started to reopen.  See Employment Blog for more information.  For March and April employment fell by 390,000.  These numbers do not reflect that hours worked for those remaining employed dropped by 20% on average.  BCREA's forecast for 2020/2021 include.

Employment growth:  -7.2% for 2020 with 4% in 2021.

Unemployment rate:  10.1% for 2020 and 7.9% in 2021.



Mortgage/interest rates:  The Bank of Canada lowered its policy rate several times from 1.75% to 0.25%.  Average discounted 5-year fixed mortgage rates have moved from 2.87% in January to 2.49%.
I checked these conclusions with another source, CPABC (Charter Professional Accountants BC) and in this article they pretty matched BCREA with one exception.  In a survey of seven organizations, including four charter banks, the forecast for changes to real GDP growth for 2021 were stronger, ranging from 5.1% to 7.6%.
These forecasts are all based on the assumption of a relatively short shut down with things opening up by summer.