In their June 2020 Mortgage Rate Forecast, BCREA highlights include:
Mortgage rates fall to record low.
Canadian economy in recession, but is a recovery on the horizon?
Bank of Canada hits its effective lower bound...again.
In an effort to halt rising mortgage rates, the Bank of Canada (BOC) lowered its overnight lending rate to its effective lower rate of 0.25%.  In addition, the BOC and CMHC purchased billions in mortgage backed securities.  "The Canadian average 5-year fixed rate now sits at a record low of 2.49 per cent.  Given the economic outlook, it may be some time before we see much movement in mortgage rates."  BCREA states.
BCREA also commented; "Unfortunately, not all government policy has been as helpful."  Of note is that the federal government suspended its planned modification to the stress test with the outbreak of the pandemic.  The modification would have moved the qualifying rate from the 5-year fixed posted rate to the 5-year fixed discounted average plus 2%.  Today that is a difference of  0.5% from 4.94% vrs. 4.49% for the qualifying rate under the suspended changes.  The 5-year average is more reflective of the market than the posted rate and it would be beneficial to allow borrowers' qualifying rate to be based on the market rate.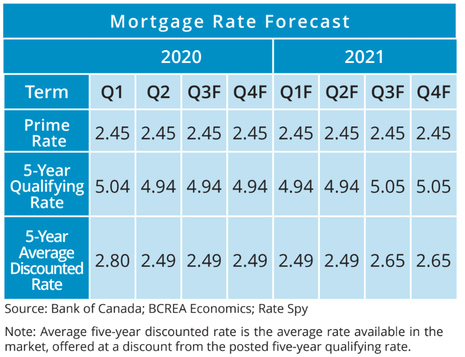 "Even more perplexing, CMHC decided to tighten mortgage credit in the middle of a historically deep recession, lowering the maximum gross and total debt service ratios, increasing minimum credit scores and banning some sources of non-traditional down payments for insured borrowers."   BCREA commentated.  This has reduced the mortgage amount available to insured borrowers (with less than 20% down) by over 10%.  See Blog for more information.  The two private mortgage insurers, Genworth and Canada Guaranty have not followed suit with this credit tightening.
---
Economic Outlook:  With the shut down of the economy, impacts and forecasted results include:
The Canadian economy contracted 8.2% at an annualized rate for the first quarter and is expected to contract by 40% or more, annualized, for the second quarter.
Peak to trough decline in real GDP is forecasted to be 10-15% before things begin to normalize in the fourth quarter.
Household spending fell 2.3%, the steepest drop ever recorded.
Exports fell 3%.
Total household investment was down 0.1%.
New home construction rose 1.6%.
"Positive signs of recovery are emerging as of May, with a surprising turnaround in the labour market, solid new home construction and an uptick in consumer spending." reported BCREA.
Even with a strong second half recovery the economy is expected to contract by more than 7% this year with double digit unemployment rates.
"We are more optimistic about the outlook for 2021 as pent-up consumer demand, rock bottom interest rates and, crucially, a successful vaccine help to push real GDP growth to 4%."  concludes BCREA