In an August 13, 2020 BCREA Release they reported a strong recovery in terms of residential real estate sales (homes and condos).  The graph to the right demonstrates the reduction and recovery in terms of sales with COVID-19.  Some specific province wide stats noted in the release include: 
Unit sales were 10,090 for July 2020,

a 26.6% increase over July 2019.
Average residential price was $770,810, an increase of 12.9% over the previous year.
Total sales volume in July was $7.8 billion, a 43% increase over 2019.
Changes on the Island are less dramatic, see below.
"Increased demand for more living space combined with an undersupplied market is producing significant upward pressure on home prices, particularly in the market for single-family homes." the release notes.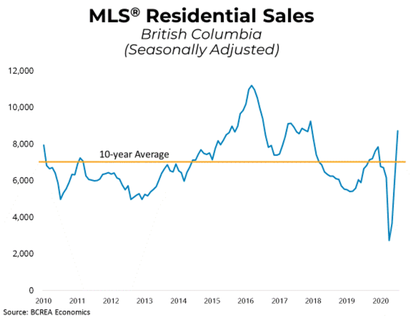 ---
In 2019 the lower mainland and some other parts of the province experienced a sharper slowdown than we did here on the Island.  So the provincial numbers above do not reflect our local situation.  The BCREA reported stats for the VIREB area (Vancouver Island Real Estate Board - excludes the Victoria Board) are notably lower:
Unit sales were 876 for July, up 2.5

%

from 2019.
Average residential price was $534,091, an increase of 7.5% over the previous year.
Total sales volume in July was $468 million, a 10% increase over 2019.
Prior to the pandemic, unit sales were dropping from the 2016/17 high, however prices continued to increase due to low inventory levels, which has an upward pressure on prices, as the graph below outlines.  July saw an unprecedented low for inventory brought upon with the pandemic.  During the lockdown in March and April we saw a 43% increase in the number of listings cancelled or withdrawn compared to the same period in 2019.  Sales did drop as well, but at a lower rate and while sales have rebounded, listings have not returned to the same degree.  At this point it appears that sellers are more inhibited by COVID-19 than buyers.
Please note the graph below is for single family homes while the BCREA stats are for all residential sales, homes and condos.  Hence the difference in average prices.