In their excellent report, The Unusual World of Pandemic Economics, BCREA (BC Real Estate Association) summarizes the unprecedented activity we have experienced in the housing market and the economy in the last six months.
""The COVID-19 recession has battered many sectors of the BC economy.  However, looking at recent data in the housing market , it would be difficult to tell there was a recession at all," says BCREA Chief Economist Brendon Ogmundson.  "In a typical recession, we would see falling demand and rising supply, but this recession is anything but typical.""  In fact we have seen the opposite, rising demand, falling supply (inventory) and increasing prices.  Items are influencing this amonomly include:
Unforeseen Home Sales Levels.
Uneven Employment Impacts.
Savings and Disposable Income Growth.
Record Low Mortgage Rates
Home Sellers Remain on the Sidelines.
Home Owner Supports.
A Recession with Rising Home Prices?
What's Next
---
In April BCREA compiled data from past recessions and made some forecasts while accounting for the uniqueness of this self-imposed recession.  Understandably, things did not follow the forecasts and in this report they examine the reasons why. 
The first, most obvious, distinction of this recession is sales levels.  Normally housing sales post a steep decline during a recession and then slowly recover with the economy.  In past recessions, the recovery has taken over a year.  This time sales did dropped by 50%, nonetheless not only did they rebounded quickly, in two months, but rather sored past previous years' levels.   The graph to the right looks at actual sale's levels against the pre-COVID and COVID  forecasts as well as an average recession.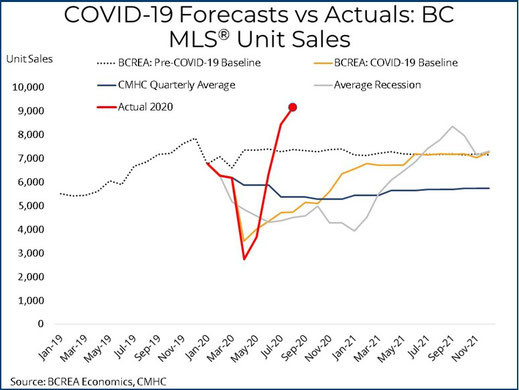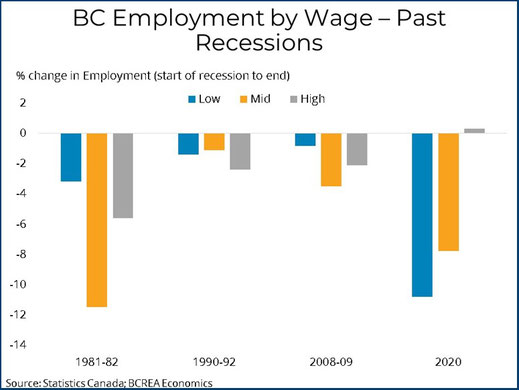 The employment impacts are another area where this recession deviates from past recessions.  So far this recession the majority of the sustained job losses has occurred in the front-line service sectors, primarily tourism, hospitality, restaurants, retail and entertainment.
The graph to the left looks at employment by wage level over past recessions.  In past recessions low wage earners tended to feel the effects of the down turn less than mid and high wage earners.  In 2020 this pattern has been reversed with low wage earners suffering the most and those with above average wages have returned to pre-COVID employment levels.
This, to a certain degree, helps explains the rebound in home sales as low wage earners tend to make up a smaller share of the home buying market.

A third factor in which this recession differs from the past is the impact on household savings rates and disposable income.  As the graph to the right indicates, disposable income jumped 11% to a record high.
More impressive is the rise in the Canadian household savings rate, also to an all time high of 28.2%, surpassing the previous high of 21.2% in 1982, when deposit interest rates were approaching 20%.
Likely contributing to this was fewer stores open for shopping, reduced vacation travel and some precautionary savings.  Additionally, the rapid fiscal response from the federal government with CERB also helped to boaster the rise in disposable income and savings.
BCREA summarizes these factors; "Solid high-wage employment, rising disposable incomes, accumulated household savings and historically low borrowing costs (below) have led to an unusually strong recovery of home sales following the initial period of the pandemic."
Furthermore,  this injection of cash and the mortgage deferral program (below),  probably reduced, or delayed, the emergence of distressed sales, which are common in a recession but so far not present.  Thereby contributing to the lower number of new listings and low inventory.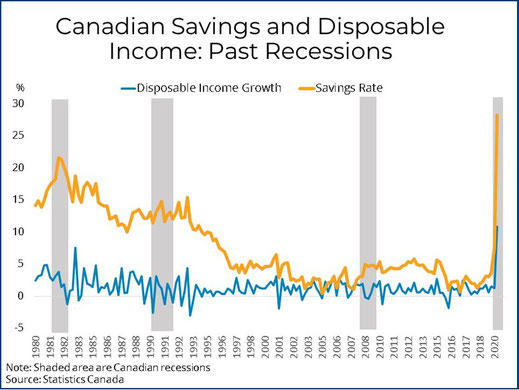 ---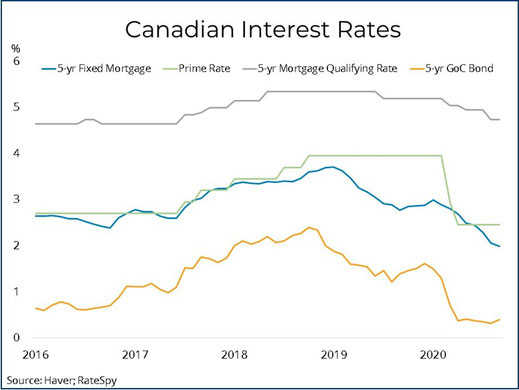 "The rapid policy response early in the pandemic shows that policymakers learned important lessons from the 2008-09 financial crisis…"  BCREA
The Bank of Canada quickly responded by bringing its policy rate down 50 basis points three times on March 4th, 16th and 27th.  Thus, reducing its rate from 1.75% to 0.25% , its effective lower bound, in just 23 days.
In addition the report states; "The Bank's foray into quantitative easing, or the purchasing of bonds across the yield curve of short-to-long term maturities (currently at 5 billion a week), as well as an injection of liquidity into the mortgage market, has resulted in record-low Canadian mortgage rates."
The effect of 2%, or lower, fixed five-year mortgage rates, effectively zero when considering 2% inflation, along with other factors mentioned here, has provided enormous stimulus to buyers.  Especially those sidelined for the first couple of months of the crisis.
---
While high home sales have been a major deviation from past recessions, so has the unprecedented drop in inventory and its upward pressure on price experienced in this recession.
In a normal recession, the drop in sales coupled with an increase in listings, often due to distressed sales, usually leads to increased inventory and a downward pressure on price.  Distressed sales are when owners have to sell due to unfavourable changes in their finances.  To date we are not seeing an increase in distressed sales.
A drop in listings was expected, due to the health nature of the pandemic, though it has been more sustained than originally forecasted.  As the graph to the right indicates.
Despite the real estate industry embracing technology with virtual tours and open houses, Zoom showings, PPE, and scheduling solutions, some sellers remained reluctant to list their homes.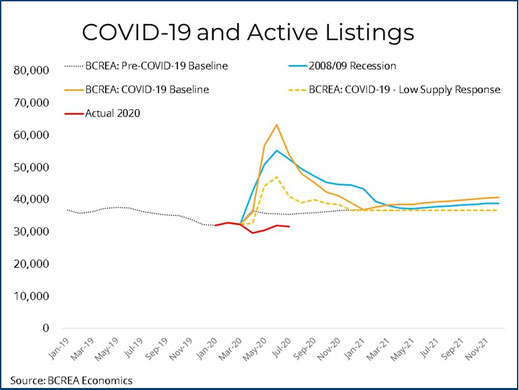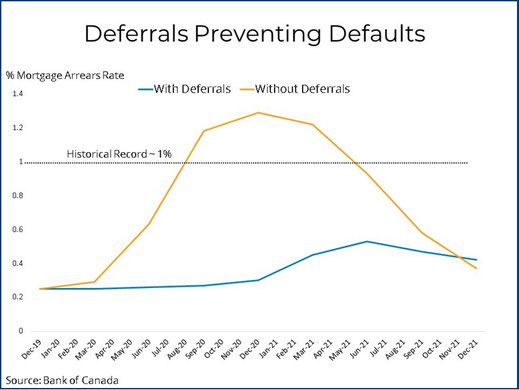 Again the government programs and the unique nature of this recession played a part in reducing new listings.  Firstly, the massive injection of stimulus money directly to households provided support to financially vulnerable households during the first six months of the recession.
Secondly, the six month CMHC mortgage deferral program (graph to the left) potentially reduced home owners needing to sell due to income interruption.
Thirdly, not mentioned in the report, the mortgage stress tests introduced in 2016 and 2018 have likely cushioned the blow to newer home owners.
Lastly, the uneven impact of this recession on the lower wage earners shifts the impact to renters more than home owners compared to past recessions.
 Even though new listings did rise to normal levels for August, sales remain strong and inventory levels are historically low and much lower than past recessions.
---
Obviously, rising home prices during a recession is a very unusual phenomena.  The convergent of factors outlined here have lead to unconventional conditions of low inventory levels coupled with strong purchasing power.
The report states; "The strength of home prices is at odds with typical recession dynamics, and it is therefore not surprising that forecasts based on typical recession, like the much-discussed spring CMHC outlook, failed to capture the sharp recovery."
Further; "Our own original COVID-19 baseline projections, though more accurate than the CMHC, did not anticipate average prices would recover to the pre-COVID-19 baseline until early 2021, even after accounting for the negative shock to active listings."
Please note; in the VIREB market, for single family homes, we had a 1.45% drop in the monthly price stats for April.  Our 12 month rolling average price dipped to 4% increase over 12 months and currently is at 6%.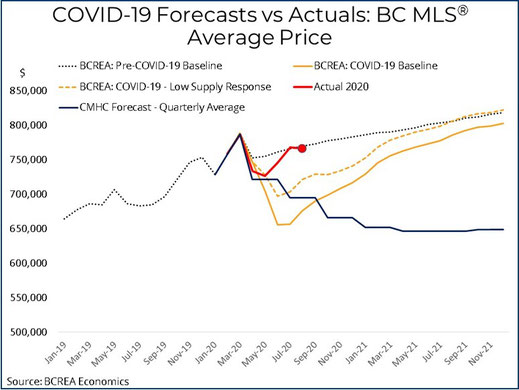 ---
I believe pretty much all of the above applies to the VIREB market (Vancouver Island Real Estate Board - from the Malahat northward), with a notable difference outlined in the second and third graphs following.
This first graph compares changes in sales and new listings compared to the same month of the previous year.  The sharp, quick, recovery of sales, with new listings lagging, is obvious.  Not shown in this graph is that for March and April we saw a 43% increase in the number of listings cancelled or withdrawn compared to the same period in 2019.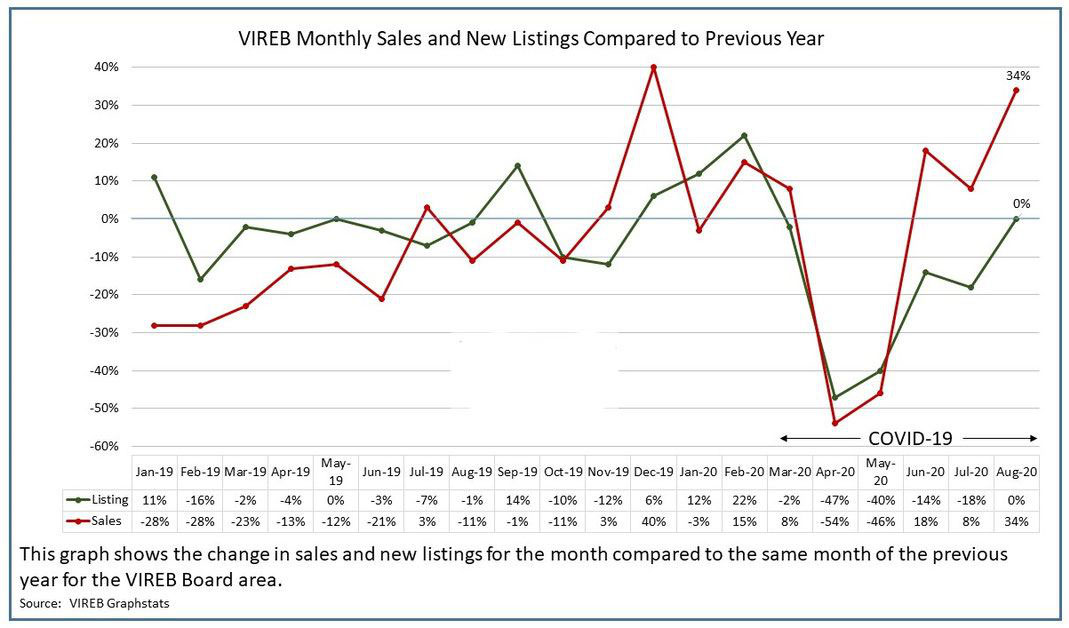 This second graph demonstrates the relationship between low inventory and upward pressure on home prices.  Here is a difference to many other markets in BC.  While price increases were slowing here since 2018, other markets in BC were flat or had a reduction as they slipped into balanced or buyer's markets.  We remained in a seller's market.  Before COVID-19, (November 2019) BCREA was forecasting a 3.8% price increase for the VIREB area in 2020.  This was lowered to 3.4% 2020 price increase in their June forecast, before sales took off.  We have had a 3% increase in three months from June to August.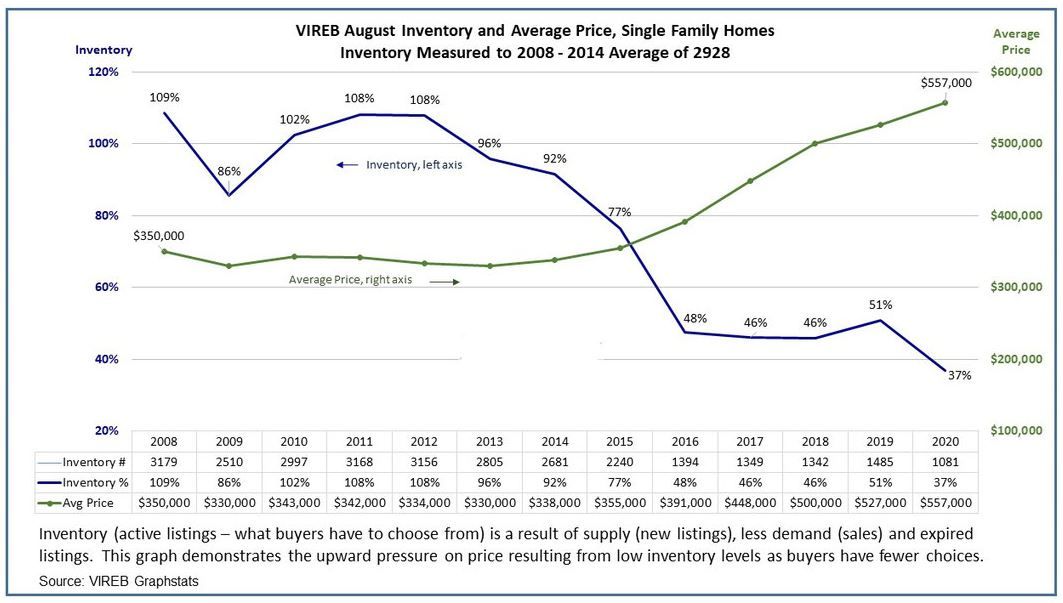 This third graph allows us to look at things over time more fully.  It has the number of listings for inventory (active listings), new listings and sales. Please note these figures are for August over the years.  Inventory as a percentage of the 2008-2014 average is included in the table.
Here we see sales increased and inventory levels dropped from 2014 to 2016 while new listings remained largely flat since 2013 to 2020 for August.  Sales began to fall in 2017, partially caused by the first stress test introduced in October of 2016 for buyers with less than 20% down.  In January of 2018 the stress test was expanded to include everyone regardless of down payment, producing a further drain on sales.
With the continued fall of sales, inventory rose to above 50% in 2019 for the first time in three years and likely would have continued to recover.  In September of 2019 we were up to 57% inventory levels.
Even though new listings were on par with 2018 and 2019 for August, for the spring and summer they were lower than previous years,  This, coupled with the strong recovery in sales has brought inventory levels down to 37%, significantly lower than previous lows.
---
My concerns expressed in last month's newsletter still remain.  The impacts on the economy from the pandemic will be longer term than first anticipated in the spring.  When our collective consciousness accepts this I expect the housing market will slow.  Even though the lower wage earners are being hit the hardest, eventually the negative impact on one sector of the economy affects us all.  Plus, I don't think the governments level of spending is sustainable long term.  Not to mention the effects of a second wave of the pandemic.
I believe a slow down will come.  However, with our low inventory and the fact that around 50% of our buyers are buying for retirement - those somewhat shielded from economic factors - a slow down here is a relative term.  Over the winter I expect inventory to recover some and price increases to level off.  Price reductions would take a large shift in inventory and a more pronounced, or sustained, impact on the economy.  Plus, as we have seen, governments can play an important part in mitigating negative impacts.
This pandemic and recession has puzzled and surprised the experts, so my thoughts should be taken with a grain of salt.
---
---
Our low inventory, a dominant influence for years, continues to exert its force on the housing market and prices today.  As the graph below indicates, in the VIREB area (Vancouver Island Real Estate Board, from the Malahat northward) we are at a historically low inventory level.  Inventory is the active listings that buyers can choose from.  It is a measurement of supply (new listings) less demand (sales) and expired listings. 
As I have noted for years, low inventory has an upward pressure on price.  My old economic text described low supply and high demand as "too many dollars chasing too few goods."  The effect of supply and demand on prices is a well established economic principle.
This principle applies to real estate as well, as the graph illustrates.  However, consumer confidence can impact this process.  In the graph below you will notice that in 2014 inventory dropped to 91% and prices increased, as expected.  While in 2009 when the inventory also dropped to 91%, prices decreased.  Consumer confidence took a real hit in 2008/09 and it took several years to recover.  I had clients in 2013 decide not to buy because they were not sure of the market and worried it was going to continue to slide.  More on consumer confidence in a bit.
---
This blog outlines the recent housing recovery, specifically the difference between the Island and the rest of the province for July.  While things have been slowing here on the Island in 2018-19, we still remained in a seller's market.  The lower mainland and other parts of the province experienced a larger drop in 2018-19.  Hence the recovery from the COVID-19 experience is more dramatic on a provincial basis than it is here on the Island.  Here are the numbers for all residential properties (not just single family homes).
VIREB for July 2020
Unit sales (all properties) of 876,

up 2.5%

from July 2019.
Average price of $534,091, an

increase of 7.5%

from 2019.
Total sales volume was $468 million, a 10% increase from 2019.
Province Wide for July 2020
Unit sales of 10,090, up 26.6% from July 2019.
Average price of $770,810, an

increase of 12.9%

from 2019.
Total sales volume was $7.8 billion, a

43% increase

from 2019.
---
The in the subheadline above I commented the "Pandemic over for the Buyers? Not so for sellers."  I will explain that position with two graphs, for single family homes, one for May and one for June.
The first one shows the listing activity for May.  There we see that both new listings (green line) and sales (red line) took a significant drop in 2020; -40% for new listings (332 listings) and -46% for sales (213 sales).  Not graphed here is that in March and April a high number of listings were removed from the market by sellers.
The result of this activity was a 7% reduction in inventory (blue line) from 50% in 2019 to 43% in 2020.
In the spring, when the belief that the pandemic would be short term, I thought that listings would recover faster than sales as some buyers would have had their income interrupted due to the lockdown, which seemed reasonable at the time.  One month later we see that did not happen as the next graph displays.
Here we see that sales (red line) have risen to levels higher than 2018 and 2019 while new listing (green line) fell to a new low.   This has resulted in the inventory level (blue line) falling 13% to 40% of the 2008-14 average, a historical low at that time for June.  This trend continues as July's inventory was down to 37%, as the graph at the top of the page indicates.
Clearly, buyers are comfortable with the pandemic while sellers are reluctant to participate.  This may be due to health reasons, or reluctance to enter the market as a buyer with low inventory.  Generally, sellers are also buyers.
To say the market is heated is an understatement.  In July I wrote five offers (very high for me).  Two of which the sellers did not accept as it was the first day and they had a number of showing requests booked.  In the end, one sold below our offer and the other went multiple offers and sold $7,000 above asking.  The other three also went multiple and sold well above asking.
---
For the economy, we are still in uncharted waters.  As mentioned in my spring blogs and newsletters, we are in a recession, a rather deep recession.  However, the old recession models don't apply as this was a self-imposed recession due to health concerns, rather than due to economic or financial situations.  People and the housing market are not reacting in a manner that is consistent with past recessions, so forecasting is problematic.  Some factors I am personally concerned about, despite the pace of the market, include:
People are not treating it as a normal recession.  In June CBC radio, Victoria, called me to see what was happening up Island.  One question they asked is why housing demand was not falling as it usually does in a recession.  My response was that buyers were viewing things as short-term and artificial, which was the general outlook at the time.  Now that we are hearing more and more that the pandemic, and its effects, are going to be with us longer term, this viewpoint may shift.


The federal government pumped over $300 Billion into the economy in an effort to lessen the impact of the shut down.  Many of these programs are reaching the end of their initial schedule.  What happens when this support is removed or reduced?  Or do we continue to go into debt at an alarming rate?


This blog in June noted that mortgage rates were at an all time low.  Rates have continued to fall since, which is an incentive for buyers.  This week I saw a rate sheet from a mortgage broker that had a 5-year fixed rate of 1.99%.  Please consult with your mortgage professional, there is more to a good mortgage than the rate.


Opening the economy back up:

While return to work employment increase numbers have been impressive, we are still well below pre-pandemic levels.  Many people continue to be unemployed or underemployed.  The news does say this, but it is not emphasized.
Many key sectors of the economy, such as tourism, travel, entertainment, and the related businesses, are not operating at full capacity now and will not be for the foreseeable future.



Managing the pandemic:  The governments have done a terrific job with testing, treatment and contact tracing.  Unfortunately, as we have seen here in BC, things can reverse rather quickly.  This is happening with only a very small portion the 20-39 age group not adhering to the health directives.  To me this brings into question our ability to manage the pandemic with the economy operating at a more "open" level.


Back to School:  The news is absolutely inundated with concerns of parents and teachers with the plans, or lack thereof, to re-open the schools.  Personally, given the difficulties currently with managing the pandemic, I am not optimistic that schools will be able to open, and remain open, full time for all students.  This will pull working parents out of the workforce with negative impacts to them and the economy.


Distressed Sales:  I include this topic not because it is an issue, but rather as people are beginning to ask me about it.  These are home sales due to negative financial changes for the home owner.  Longer term impacts of this situation can lead to foreclosures, though that process usually takes about eight months - see my foreclosure website.  So far we (Pemberton Holmes, over 330 Realtors in 16 locations) are not

seeing

signs of distressed sales. 
---
What is next for the housing market?  That is the million dollar question.  We are in an unique and largely unknown situation.  Much has been done successfully and some with lessons learned.  We are learning everyday, however, accurate forecasting remains difficult.  Here I am commenting on some key components for the housing market, based on my concerns listed above.  What is below is somewhat pessimistic and is primary based on my personal views and concerns and I have to admit is contrary to what I am experiencing day to day as a Realtor.  The market is very active and strong at the moment.
The economy:  In reviewing my blogs over this pandemic there is, unsurprisingly, a wide range of suggested outcomes.  Early forecasts tended to focus on a shorter impact and return to pre-pandemic levels in early 2021.  I expect fall forecasts to indicate the impacts to be longer lived and with a slower, longer recovery.  In this BMO Blog they examined four different economic recovery curves and at the time were leaning to the two shorter ones, "V" and "U."  I  am worried that we may see more of a "W" curve, especially with a second wave with the pandemic.

In addition, it is now clearer that some sectors of the economy will take years to recover and we are also seeing that women and younger workers are being disadvantaged within the current recovery results.  In my mind, we are not collectively aware of, and have accepted, the longer term impacts on the economy.  Can we spend our way out of this situation?  This has been the short-term, and somewhat effective, approach of the federal government.  Longer term plans are not clear at this point.
Inventory:  Low inventory has an upward pressure on price and this will continue until inventory levels come up, either with sellers coming back or consumer confidence shifts.


Consumer Confidence:  As mentioned, so far consumer confidence remains high with active buyers.  Potentially, I see a few triggers that may start to move this confidence.  One being back to school.  If this is unsuccessful, then it will continue to have negative effects on the economy and I believe provide more questions on our ability to manage the pandemic's impact.  Another is the economy.  The federal government just announced a break to consider longer term responses and support for the economy.  I believe it is going to become more obvious that there is not a quick fix to the economy and we are in a recession.  A word largely not used much to date.  Over time more people are going to accept that there are longer term downside impacts and confidence will wain.


Local Housing Market:  Here on the Island we have about 50% of buyers purchasing for retirement, with many coming from off the Island.  These buyers tend to be less influenced by economic factors, which can help to lessen those impacts on the housing market.  Thus potentially insulating us somewhat.


The virus:  A vaccine is the obvious long term solution.  However, this will not be developed, rolled out and fully implemented until at least spring.  In addition, a significant part of the population (20-30%) are reluctant to take the vaccine.  Heck, some people are refusing to wear masks.  For me, masks and gloves are mandatory for showings.  Why not?  
---
In summary, clearly, I have some concerns.  Though these are in contrast to what I am seeing happening in the market over since June.  I believe that the economy will take longer to bounce back, partially dragged down by our ineffectiveness to manage the pandemic, which will shift people's outlook and dampen consumer confidence.  Thus slowing the housing market.  These factors should result in bringing the inventory up, and, with a drop in consumer confidence, will ease the pressure on prices.  How much depends on economic recovery, or lack of recovery, consumer confidence and inventory.  Considering our low inventory levels, it will take substantial changes to see prices come down.  Even though, I will not be surprised to see prices flatten out in the fall.  If inventory levels were higher, I would be leaning toward price reductions this fall/winter.   Hopefully, in a couple of months, we will have a better sense of what is going to happen.
---
---
Gerry provided an extremely high level of service.  His hard work and insights during the entire process of purchasing and building our house in Cumberland were invaluable, doing research and advising us on what questions needed asking.  It was an involved and evolving process of viewing properties in the Comox Valley before deciding on the house and lot.  During construction, he communicated frequently with the builder's realtors, keeping track of adjustments and documenting changes.  It was a long road and I have a great respect for his integrity and work ethic.  We cannot thank you enough, Gerry.  Kindest regards, Gustaf and Jana.